Oral Cancer
Examination
ORAL CANCERS: RISK FACTORS, DIAGNOSIS, AND TREATMENT
Oral Cancer Examination Warrnambool
We all would like things that we enjoy to remain with us and continue to be available to us always.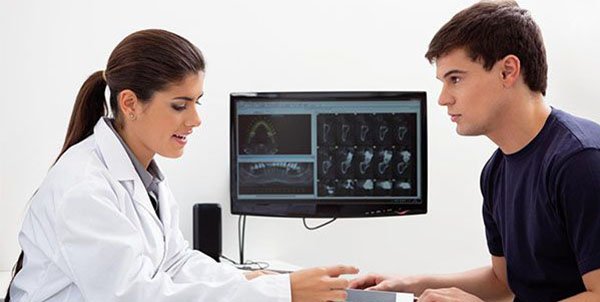 Dental health is one of those things and unfortunately one of those things we can easily take for granted, we can all be guilty of assuming that if we have no pain, we have no problems and that nature will tell us if and when we might need to pay some attention to our teeth.
However, things just don't always work out the way we would like, in fact, the most potent dental disease that accounts for the most tooth loss in the world is PAINLESS, and by the time we start to notice a problem it can be too late!
Oral Cancer Facts
Oral cancer is three times as common as cervical cancer
Oral cancer survival rates have been stagnant for 30 years, with most cases detected during advanced stages
Survival rates are exponentially higher when detected during the early stages
Yearly oral cancer screenings are strongly recommended by physicians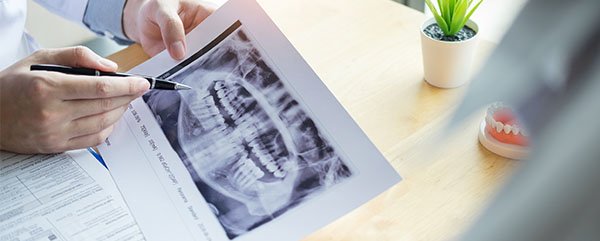 Oral Cancer Symptoms
Mouth sores that do not go away
Chronic pain in mouth or ear
Firm swelling or lump in the neck
Persistent difficulty or irregular swallowing
Persistent sore throat without any symptoms of cold or illness
How you prepare
Oral cancer examination doesn't require any special preparation.
Oral cancer examination is typically performed during a regular dental check-up.
What to expect
During an oral cancer screening examination, your Warrnambool dentist looks over the inside of your mouth to check for mouth sores.
Using gloved hands, your dentist also feels the tissues in your mouth to check for lumps or other irregularities.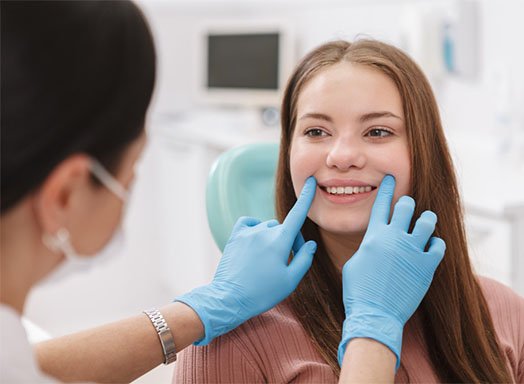 Additional Tests for Oral Cancer Examination
Some dentists use special tests in addition to the oral exam. It's not clear if these tests offer any additional benefit over the oral exam.
Special oral cancer examination tests may involve:
Rinsing your mouth with a special dye before an exam. Abnormal cells in your mouth may be stained.
Shining a special light in your mouth during an exam. The light makes healthy tissues appear dark and makes abnormal tissues appear white.
Results
If your dentist detects any signs of mouth cancer or precancerous lesions, the following may be recommended:
A follow-up visit after a few weeks to see if the abnormal area is still present and take note whether it has grown or changed over time.
A biopsy procedure is performed to determine whether cancer cells are present. A sample of cells will be removed for laboratory testing.
Your Warrnambool dentist may perform the biopsy, or you may be referred to a specialist in oral cancer diagnosis and treatment.
Oral Cancer Examination in Warrnambool
An oral cancer examination is not just a simple medical exam; it's an opportunity for a person to talk to the dentist about dental fears and concerns, and to ask for advice about decreasing his risk.
Oral Cancer Examination in Warrnambool
Call us on(03) 5562 4433or visit us at 454A Raglan Parade in Warrnambool.
Dental FAQ's
Listed below are the most commonly asked questions we receive from our patients.
Your Title Goes Here
Your content goes here. Edit or remove this text inline or in the module Content settings. You can also style every aspect of this content in the module Design settings and even apply custom CSS to this text in the module Advanced settings.
Where does oral cancer occur?
Most oral cancers occur in the floor of the mouth and tongue but can also occur in the upper or lower jaw, lips, gums, and cheek lining.
Who is most at risk for oral cancer?
Smokers and heavy alcohol drinkers are more likely to develop oral cancer.
People with a history of oral human papillomavirus infections are at greater risk to develop oral cancer even if they don't smoke or drink.
What causes oral cancer?
Tobacco and alcohol use are the main risk factors for oral cancer. They are both risk factors by themselves, but the risks are even greater for people who use both.