CEREC Warrnambool
When you are having dental problems, one of the worst parts of the experience can be making several trips to your dentist instead of getting everything done in one trip.
CEREC allows you to save more time and get better results by taking advantage of advanced technology to restore/repair your teeth with crowns, bridges, and inlays and onlays.
What is CEREC?
CEREC is the shortened term for Chairside Economical Restoration of Esthetic Ceramics or CEramic REConstruction. CEREC uses CAD/CAM (computer-aided design/computer-aided manufacturing) technology to take impressions quickly and generate a precisely fitted filling so you can leave Warrnambool Dental sooner.
The CEREC restorations are made of the same type of material used with most lab restorations. A solid porcelain restoration can provide years of use, with many lasting for a decade or more.
Benefits of CEREC Restorations
There's a lot of benefits to choosing this new technology.
If you're searching for the pros and cons of opting-in for this method, we'll start with the benefits of CEREC Restorations:
The whole process only takes 2 hours.
Digital Impressions are made of your mouth in minutes.
Fabrication of ceramic restorations using our milling unit ensures accuracy & precision.
CEREC Restorations look & feel like a natural tooth.
There's no other type of restoration that can compete with a CEREC Restorations.
They can last up to 10-15 years; but if taken care of, they may last much longer.
No temporaries, no impressions, and less post-operative sensitivity.
Dental Restorations Made with CEREC
Dental crowns
Dental crowns are materials formed to cover and protect damaged, decayed, or broken teeth. In some cases of damage or decay, the remaining tooth can still be saved from extraction.
Same-day CEREC crowns can be used just like traditional dental crowns. Traditional crown fabrication takes place in a dental laboratory. But there's a much more convenient and superior alternative: Same-Day or One-Visit CEREC Crowns are made in our dental office on the same day.
Dental bridges
Bridges are false teeth that act as an alternative to dental implants. They replace one or more missing teeth with false teeth that are anchored by surrounding teeth, thus creating a 'bridge'.
Inlays and onlays
Inlays and onlays aim to replace lost or damaged tooth structures with artificial materials that possess biological, physical, and functional characteristics similar to natural teeth. They serve the same goal as white fillings and crowns. They are used to restore a tooth, typically damage by infection or breakage.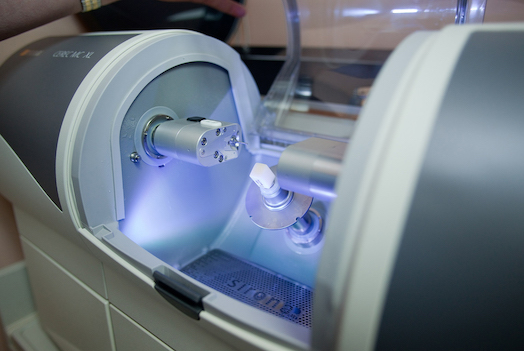 How CEREC works
One of the greatest benefits of CEREC is its convenience.
You can get your teeth restored/repaired during a single trip to Warrnambool Dental.
The CEREC process allows you to receive your permanent restoration right here in our Warrnambool office, so you don't have to live for weeks with a temporary restoration and schedule another appointment.
In addition, your Warrnambool dentist and our team use digital impressions to make a mould for the filling. This is more comfortable and accurate than impressions with plaster.
CEREC restorations are able to withstand moderate chewing – yours will last for years. The lifespan of a CEREC restoration is longer than traditional restorations. In addition, the colour of CEREC ceramic is closer to the colour of your natural teeth, which will make your restoration virtually unnoticeable.
CEREC in Warrnambool
With the CEREC machine, you can always expect quick and efficient restorative dentistry from us.
Your Warrnambool dentist works hard to ensure you receive the best treatment possible. We are happy to discuss treatment plans and answer any pertaining questions.
Dental restorations at Warrnambool Dental are made using the highest-grade materials at affordable rates.
Contact our Warrnambool office today for more information or to schedule an appointment for your brand-new smile.
Call us on (03) 5562 4433 or visit us at 454A Raglan Parade in Warrnambool.