Dental Crowns
RESTORE YOUR SMILE WITH DURABLE DENTAL CROWNS IN WARRNAMBOOL
Dental Crowns Warrnambool
Dental crowns are materials formed to cover and protect damaged, decayed, or broken teeth.
In some cases of damage or decay, the remaining tooth can still be saved from extraction.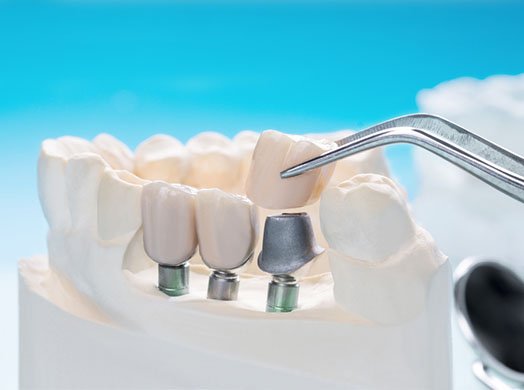 Dental crowns are designed to help save teeth from removal while protecting them from further damage. They are sometimes called caps because they cover the complete surface of the tooth.
Dental crowns are also useful in preserving weak or damaged teeth that have undergone extensive treatment, such as root canals and heavy fillings.
Some patients choose to have dental crowns solely for aesthetic reasons because they can alter the shape and colour of the tooth to their desired liking.
Thanks to modern dentistry advances, you have several options to choose from, which include crown materials and how you would like the restoration design.
You may choose to receive a digital crown or have it constructed with traditional methods by a dental technician. Traditional dental crown construction offers the benefits of having several materials to choose from.
When you visit your dentist, they will take an impression of your teeth using a mould, which will be sent to a dental technician in a different facility.
Construction usually takes around two weeks, during which you can wear a temporary plastic crown to help you eat and have a normal looking tooth in its place.
After this time, you can return to your dentist, and they will cement your new crown in its place, which usually takes only 30 minutes.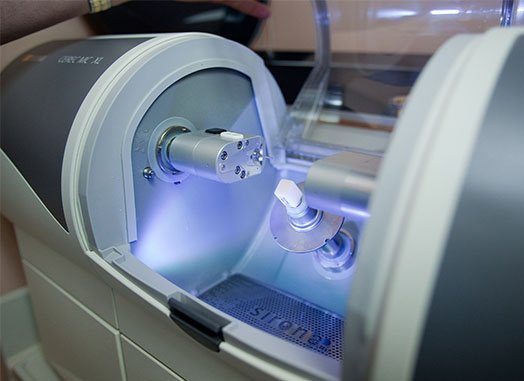 Same-Day CEREC Crowns
Same-day CEREC crowns can be used just like traditional dental crowns.
Traditional crown fabrication takes place in a dental laboratory. But there's a much more convenient and superior alternative: Same-Day or One-Visit CEREC Crowns are made in our dental office on the same day.
One-Visit CEREC Crowns are milled from a single block of high-quality lithium disilicate reinforced ceramic, a substance that is extremely durable and wonderfully tolerated by your body.
In addition, the beautiful, translucent ceramic mimics your natural tooth enamel in appearance and texture.
Why Should I Get a Crown?
There are many reasons why a dental crown may be your best option, including:
Progressive tooth decay with structure too damaged for a filling or inlay
Tooth is broken and can no longer be repaired with composite bonding
Large cavity in the tooth that is too big for a filling or an inlay
Dental implant that must be supported with a crown
Extensive root canal treatment that leaves the tooth fragile
Acid dental erosion or grinding has irreversibly damaged teeth
Cosmetic purposes
What Material is a Crown Made From?
Dental crowns can be made from a variety of materials depending on your preference. Some options include all-porcelain or ceramic, metal alloy with porcelain shell, and full gold crowns.
Your dentist may recommend a material based on the condition of your teeth, or you may opt to choose one based on cosmetic preferences. You and your dentist can discuss dental crown options along with any cost concerns during your visit and choose one that best suits your needs.
How Long Does a Crown Last?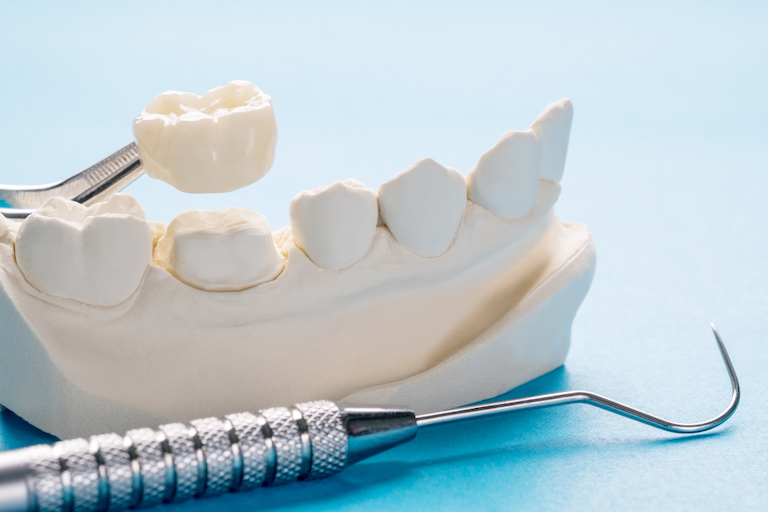 In most cases, your new dental crown is expected to last for several years to a lifetime depending on the material you choose.
Although it is completely intact, the crown may be affected by factors such as further tooth decay, receding gums, or changes in your mouth.
Talk to your dentist Warrnambool about the things you can do to take care of your crown and maximise its lifespan.
Dental Crowns in Warrnambool
Warrnambool Dental crowns are constructed using the highest-grade materials at affordable rates. Contact our offices today for more information or to schedule an appointment for your brand-new dental crown.
Dental Crowns in Warrnambool
Call us on (03) 5562 4433 or visit us at 454A Raglan Parade in Warrnambool.
Dental FAQ's
Listed below are the most commonly asked questions we receive from our patients.
Your Title Goes Here
Your content goes here. Edit or remove this text inline or in the module Content settings. You can also style every aspect of this content in the module Design settings and even apply custom CSS to this text in the module Advanced settings.
What does a dental crown actually do?
A dental crown is a cap that goes over your tooth. It provides stability, function, and other features to keep your smile at its best. Dental crowns can also be attached to a dental implant, completing the final restoration of your missing teeth.
What are dental crowns made out of?
When you're getting a dental crown, you want it to blend in with your smile as much as possible. Each one of our dental crowns is made with porcelain dental ceramic. This material can be colour-matched to go with the rest of your smile and is stain-resistant and durable.
How long do crowns last?
Crowns can last up to 30 years if they're properly taken care of.