All-on-4
Dental Implants
A reason to show your smile again: All-on-4 Dental Implants.
All-on-4 Dental Implants Warrnambool
Can just four implants replace all of the teeth on the top or the bottom of your mouth?
Thanks to modern dental implant technology, that answer is a resounding YES.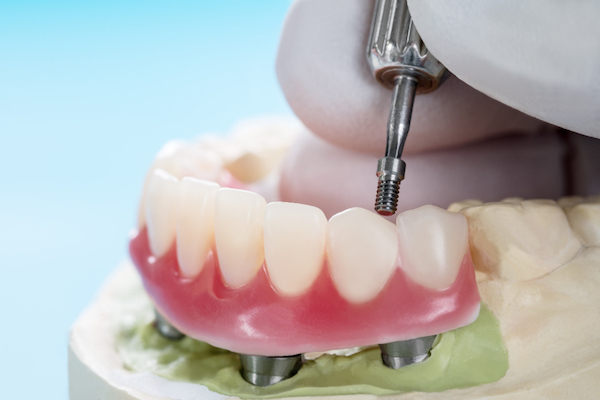 One Full Arch of Teeth, Four Dental Implants
Full-arch fixed implant bridges—often referred to as All on 4 — are taking the dental field by storm.
These bridges are usually supported by 4-6 dental implants, which are made from materials like acrylic fused to titanium, monolithic zirconia, and porcelain attached to a cobalt-chromium frame.
Here's where it gets really interesting: You don't need a dental implant for each missing tooth.
All you need is four implants on the upper mouth and four on the lower to restore your smile. That's the beauty of the full arch.
And because the dental implant is made from titanium, it has the unique ability to fuse to your bone and function as part of it.
Eventually, the dental implant becomes a part of the jawbone and serves as a strong foundation for your new teeth.
Besides ensuring that your dental implants are permanently fixed in place, this bone fusion has another important benefit: it can prevent future bone loss in the jaw.
This helps to maintain a youthful facial structure — and better oral health.
But perhaps the biggest surprise about the full arch is how quickly it can transform your life.
Benefits of All on 4 Dental Implants
The benefits of the All on 4 method are numerous. Here are some of the key benefits that patients will realise from undergoing the All on 4 procedure.
Get fully-functioning, new teeth in a short period of time
Experience an improvement in chewing ability, teeth stability, and overall comfort right away.
Improve your overall appearance
All on 4 dental implants can take up to 20 years off your appearance.
The procedure preserves the jawbone and prevents further deterioration of the facial structure related to missing teeth and a lack of the root system.
Dental implants decrease the appearance of wrinkles caused by missing bone and tooth structure, which helps you look younger.
Eat foods without hesitation
Your eating habits will improve with the All on 4 procedure. You'll be able to enjoy your favourite foods again instead of avoiding them.
Get long-lasting smile
The All on 4 dental implant procedure creates a permanent set of teeth with a non-removable implant-supported bridge. Your dental implants never have to be removed, and your teeth can last for a long time.
Eliminate other health issues associated with failing teeth  
The All on 4 dental implant procedure helps create a healthier mouth and a healthier body by reducing your risk of gum disease — a bacterially induced chronic infection and inflammatory disease.
Gum disease has been associated with heart attacks, strokes, Alzheimer's disease, diabetes and other chronic diseases. Because dental implants restore your mouth, they may help fend off gum disease.
Easy maintenance
With proper brushing and flossing, and regular dental visits to Warrnambool Dental, your new teeth will stay clean and healthy for years to come.
With as few as 4 dental implants, you can replace your dentures and have a permanent implant-supported bridge in as short as one day.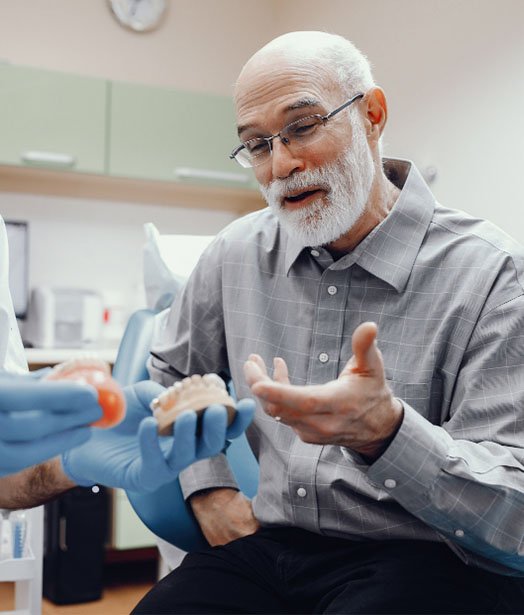 All on 4 Dental Implant Solution
The All on 4 dental implant solution has been developed to simplify treatment for those suffering from tooth loss, gum disease, and/or bone atrophy and resorption — all of which can lead to poor oral health, low self-esteem, and quality of life problems.
With the All on 4 solution, your oral health and overall well-being will be enhanced.
The All on 4 dental implant solution is superior to conventional dental implant methods because it…
Reduces/eliminates bone resorption
Has a lower overall cost than conventional implants
Significantly reduces healing time
Has proven predictability with a high success rate
Allows for a quick replacement of new teeth
Is permanent and will keep you smiling for a long time
All on 4 Dental Implants in Warrnambool
All on 4 dental implants are a strong and durable alternative for patients to consider when traditional dental implants aren't a good fit.
If you would like to learn more about the All on 4 treatment process, get in touch with your Warrnambool dentist.
Visit us today and talk to your Warrnambool dentist.
All-on-4 Dental Implants in Warrnambool
Call us on (03) 5562 4433 or visit us at 454A Raglan Parade in Warrnambool.
FREQUENTLY ASKED QUESTIONS
What is All on 4?
All on 4 is an implant-supported prosthesis that replaces all of the missing teeth in a dental arch (upper or lower).
Will my results look natural?
Absolutely. The All on 4 dental implant technique gives you permanent teeth that look, feel and function just like real teeth. No one will know you have dental implants unless you tell them.
How do I maintain optimum oral health after an All on 4 implants is placed?
Dental implants should be treated like your own teeth; daily brushing and flossing is recommended.
Your Warrnambool will review oral hygiene instructions with you and will recommend the most appropriate treatment plan to fit your lifestyle and needs.