Laser
Dentistry
LASER USE IN DENTISTRY
Laser Dentistry Warrnambool
Laser dentistry is a relatively new treatment that can enhance and accelerate the quality and speed of dental procedures.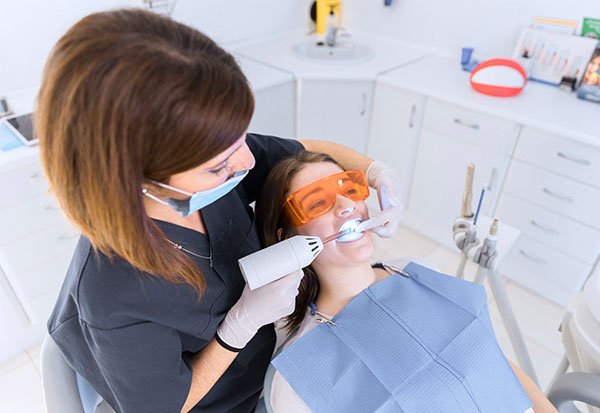 The procedure is painless and is not harmful to the oral tissue or teeth. When appropriate, it can be used in combination with, or as a substitute for, cosmetic dentistry.
LASER stands for "light amplification by the stimulated emission of radiation."
The instrument creates light energy in a very narrow and focused beam. This laser light produces a reaction when it hits tissue, allowing it to remove or shape the tissue.
Types of Lasers Used in Dentistry
The two types of lasers dentists use during laser procedures are hard tissue and soft tissue lasers.
Each laser utilises a different wavelength that makes it appropriate for cutting into that certain type of tissue. This works because each kind of tissue absorbs light wavelengths in different ways.
By altering the light's wavelength, scientists have figured out how to craft lasers with light wavelengths compatible with the tissues in your mouth.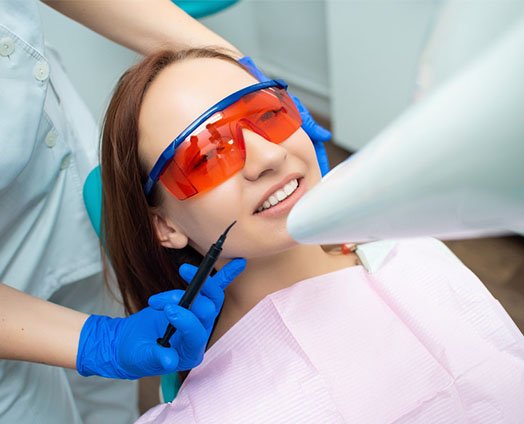 Benefits of Laser Dentistry
Procedures performed using soft tissue dental lasers may not require sutures (stitches).
Certain procedures do not require anaesthesia.
Minimises bleeding because the high-energy light beam aids in the clotting (coagulation) of exposed blood vessels, thus inhibiting blood loss.
Bacterial infections are minimised because the high-energy beam sterilises the area being worked on.
Damage to surrounding tissue is minimised.
Wounds heal faster, and tissues can be regenerated.
What Laser Dentistry Can Treat
Most issues laser dentistry treats are related to the gums. Some of these include:
Canker sore and cold sore pain treatments
Treating root canal infections
Treating gum disease
Removing gum inflammation
Gum reshaping
Biopsies
Exposing wisdom teeth
Removing throat tissue that causes sleep apnoea
Regenerating damaged nerves
Removing benign oral tumours
Procedures Involving Laser Dentistry
Lasers may be used in a number of other dental procedures, including laser tooth whitening, setting restorative materials such as crowns or fillings, and detecting tooth decay.
Before considering any type of dental laser therapy, speak with your Warrnambool dentist to determine if laser treatment is right for you.
Occasions that may call for laser dentistry include:
Colouring of gum tissue for cosmetic purposes.
Crown resizing. This procedure reshapes both gum tissue and bone for healthier tooth structure, which helps with placing restorations on the teeth.
Periodontal treatment. Lasers are used to reshape gums and remove bacteria during

 

root canal procedures.
Frenectomy. Patients with a thick or tight frenulum (the fold of skin under the front part of the tongue that anchors to the mouth floor) may benefit from a laser frenectomy. This treatment helps children whose restricted frenulum causes them to be tongue-tied, have difficulty breastfeeding, or have a speech impediment.
Laser dentistry has the potential to reduce the time of some surgical procedures to minutes. In many cases, this proves to be easier and less expensive for the patient.
Laser Dentistry in Warrnambool
Please contact your Warrnambool Dental office for more information or to make an appointment and discuss laser dentistry options with your dentist.
Laser Dentistry in Warrnambool
Call us on (03) 5562 4433 or visit us at 454A Raglan Parade in Warrnambool.
Dental FAQ's
Listed below are the most commonly asked questions we receive from our patients.
Your Title Goes Here
Your content goes here. Edit or remove this text inline or in the module Content settings. You can also style every aspect of this content in the module Design settings and even apply custom CSS to this text in the module Advanced settings.
Are lasers safe?
Yes! Lasers have been commonly used in dentistry and other medical fields for several years now and are considered completely safe when used properly.
What will I feel during a laser treatment?
Most patients feel nothing during laser treatments. Some patients report a slight sensation. This varies from patient to patient.
Am I qualified for laser treatment?
Almost all dental patients can receive the benefits of laser treatments. It is especially ideal for children.
Your Warrnambool dentist can tell you which laser treatments are best for you.