Mouthguards and
Splints
PROTECT YOUR SMILE AT PLAY AND DURING SLEEP
Mouthguards and Splints Warrnambool
Protecting your teeth when playing contact sports is important, and a mouthguard professionally moulded to the shape of your mouth, and made to the highest standards, can be your best protection.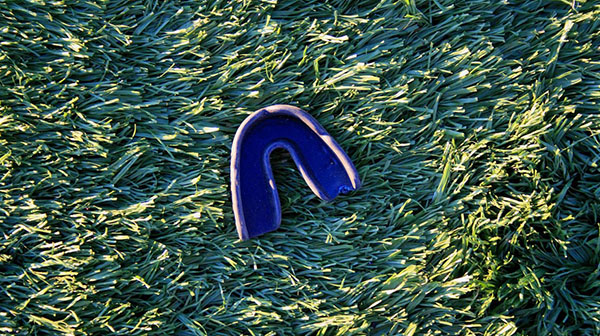 Unlike store-bought mouthguards, custom-made mouthguards won't slip or fall out of your mouth and don't require much effort to keep in, leaving you to concentrate on your game.
Our team at Warrnambool Dental can fit you with a custom mouthguard.
We make both adult and children's mouthguards and welcome you to come in so we can assess your need for a mouthguard.
Your Warrnambool dentist will explain what's involved and what the costs are likely to be.
Mouthguards: Optimum Protection at Play
With contact sports and activities that carry the risk of a head injury, wearing a mouthguard is important for teeth protection. Mouthguards are appropriate for all age groups and reduce the risk of dental injuries.
Our custom-made mouthguards provide the best protection. They are moulded from mouth casts to fit precisely into your mouth and over your teeth.
Mouthguards can also prevent or lessen the chances of:
being knocked unconscious;
tooth and jaw fractures;
concussion; and
injuries resulting from the lower jaw impacting up into the upper jaw during a collision.
Mouthguards can help you avoid the extra time, expense, and discomfort associated with cosmetic and restorative treatments.
If you have dental crowns, porcelain veneers, or other types of prosthetic dental work, a mouthguard is essential to protect your smile.
Splints: Night Guards During Sleep
Bruxism (teeth grinding or clenching during sleep) is a common problem. This can go unnoticed for a long time as it is an involuntary habit that happens during sleep.
If you have TMJ pain, sensitive teeth, recurring headaches, tooth erosion, flat teeth, or damage to dental restorations/teeth, you may want to consult your Warrnambool dentist.
An occlusal splint (or "night guard") is a removable appliance that is tailor-made to fit either your top or bottom teeth. It is worn during the night, while you sleep, to protect your teeth from clenching or grinding.
Teeth grinding or clenching can lead to wear and tear on your teeth, and in a large number of cases, cracked teeth.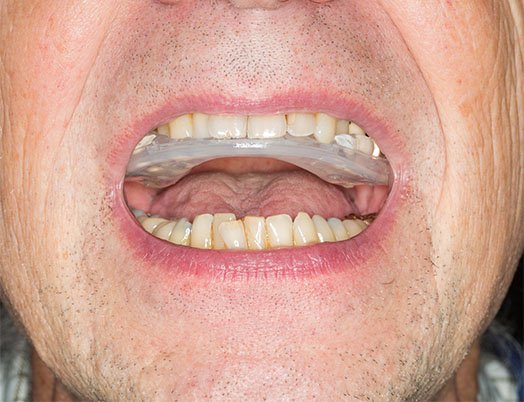 Cracked teeth can often lead to more expensive dental procedures such as root canal treatment and crowns, or in severe cases tooth removal.
An occlusal splint worn at night decreases the amount of pressure placed on your teeth and protects your teeth against long-term damage.
Common symptoms of night grinding or clenching include:
Waking up with sore teeth
Having trouble chewing your breakfast due to sore muscles on the side of your face
Waking up tired
Waking up with headaches and neck stiffness
Mouthguards and Splints in Warrnambool
At Warrnambool Dental, we understand the importance of protecting teeth at all times.
One such situation is contact sports in which teeth, particularly front teeth, are at high risk of injury.
In extreme cases, this can result in losing teeth completely. Your Warrnambool dentist can recommend and provide services to make a customised well-fitting mouthguard which will protect your teeth and jawbones from injury.
Another way the teeth are at risk of serious injury is through grinding or clenching your jaws for long periods during sleep.
Since this occurs when you are in an unconscious state, the only way to protect your teeth is by wearing a custom-made occlusal splint. Please contact us today to discuss how we can help in this area.
Mouthguards and Splints in Warrnambool
Call us on (03) 5562 4433 or visit us at 454A Raglan Parade in Warrnambool.
Dental FAQ's
Listed below are the most commonly asked questions we receive from our patients.
Your Title Goes Here
Your content goes here. Edit or remove this text inline or in the module Content settings. You can also style every aspect of this content in the module Design settings and even apply custom CSS to this text in the module Advanced settings.
How long will my mouthguard or occlusal splint last?
Custom-made mouthguards or splints will last between 3 to 5 years if cared for properly and depending on the frequency of usage.
It is important to have your mouthguard examined by your Warrnambool dentist at your regular check-up, to ensure it is still in optimal condition and still fits properly.
How do I care for my mouthguard?
To ensure your mouthguard lasts for a long time, rinse with fresh, cold water after every use, store in a rigid/plastic container and keep it out of direct sunlight, as mouthguards are quite malleable when heated.
It is also advised that you wash your mouthguard with mouthwash to keep it sterile.