Implant Dentures
IMPLANT-SUPPORTED DENTURES FOR A NEW SMILE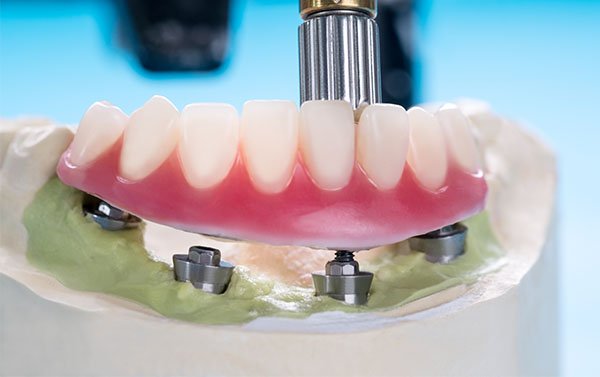 Implant Dentures Warrnambool
Implant dentures are full over dentures that are supported by dental implants.
Unlike traditional dentures, implant dentures are fixed to the bone structure of your mouth using implants.
They function like real teeth and can resolve issues related to traditional dentures, such as poor chewing, difficulty speaking, falling out, and possible jawbone shrinkage.
Implant dentures can be inserted in both the upper and lower jaws.
Implant Denture Options in Warrnambool
There are two major denture implant options to choose from:
Fixed Porcelain Bridge
This procedure includes 6 to 8 dental implants. The porcelain bridge is very popular among patients because it provides a natural look and feels when you wear it.
It is designed to improve upon conventional dentures and make it easier to eat and speak as though you have real teeth. A fixed porcelain bridge can also help return your facial structure and smile back to normal.
Hybrid Denture Bridge
The hybrid denture is a specialised non-removable prosthesis that is attached to your implants. This procedure will include 4 to 6 implants. It is normally performed to replace all teeth or regular dentures.
The hybrid denture is designed to make up for lost bone structure that can make it difficult to wear regular dentures. It also offers facial support in the case of extensive loss of mouth structure.
The bridge is permanently attached to your implants and can only be removed by a dentist.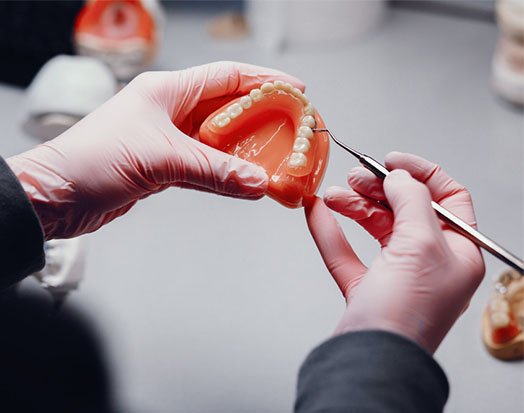 Preparing for Implant Dentures
Like with any dental implant, preparation for implant dentures will involve a complete exam along with 3D imaging of your mouth structure to create accurate models for the insertion of your implant.
It is necessary to locate nerves, sinuses and assess the jawbone dimensions to ensure optimal placement of the implants.
If you already have complete dentures, they can be retrofitted to attach to your implants.
If you do not have dentures, we will create them for you. This process usually takes four visits over the course of several weeks.
The Implant Denture Procedure
Depending on the implant dentures of choice, you will require between 4 to 8 dental implants.
Implants are normally inserted into the bone structure in the front of the mouth, where there is usually more bone and support than in the rear of the mouth.
Dental implants require two surgeries, spaced approximately 3 to 6 months apart.
Your first surgery will involve placing the implant into the jawbone under the gum tissue, where it will need time to fuse together with the bone structure.
The second surgery will involve exposing the implants through the jawbone, after which they will be ready for attachment with your dentures.
Procedures for the upper jaw normally take about two months longer than procedures for the lower jaw.
You can expect the entire process of dental implant surgery and attachment with dentures to take about 5-7 months.
If your treatment is more complex and will involve bone grafting or other procedures, the entire process may take a year or longer.
Implant Denture Care
Your new implant dentures can be removed from their implant foundations. To replace them, simply 'snap on' the dentures to your dental implants.
As with real teeth, practising oral hygiene with dentures is important for maintaining good oral health.
Brush your dentures daily and soak them in cold water when you take them off.
Remove your dentures at night to rest your gums and allow contact with saliva, which is beneficial to their health.
When soaking your dentures, you may use denture cleaning tabs to make sure they are completely clean.
Make sure to brush your dentures before placing them back on your dental implants.
After extended use, your dentures may begin to become stained or built up with debris.
When this happens, you can take your dentures to your dentist, and they will provide a professional cleaning service to restore them.
You should continue to see your dentist regularly for an examination of your dentures and to make sure they are still properly fitting your gums, which may change shape over time.
Visit your dentist if you notice your dentures are no longer fitting properly. Ill-fitting dentures may irritate your gums, general discomfort, and other issues.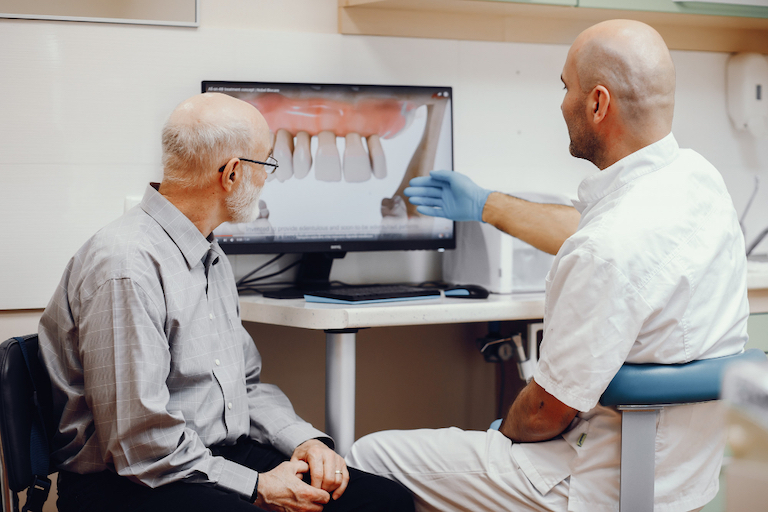 Like real teeth, implant dentures are susceptible to wear and tear and the effects of time. To ensure their longevity, make sure to take care of your dentures as best as you can.
Factors such as shrinking gums cannot be avoided and may change the functionality of your dentures.
If this occurs, a new set of dentures or an adjustment to your dentures will resolve the issue.
Implant Dentures in Warrnambool
Contact us at Warrnambool Dental for any inquiries about dental implant costs, more information, or to schedule an appointment today.
Implant Dentures in Warrnambool
Call us on (03) 5562 4433 or visit us at 454A Raglan Parade in Warrnambool.
Dental FAQ's
Listed below are the most commonly asked questions we receive from our patients.
Your Title Goes Here
Your content goes here. Edit or remove this text inline or in the module Content settings. You can also style every aspect of this content in the module Design settings and even apply custom CSS to this text in the module Advanced settings.
Are the dentures fixed or removable?
Implant-supported dentures may be permanently attached to the implants. These are not removed each night and are cleaned within the mouth. It's also possible to have removable dentures supported by dental implants.
If the dentures can be permanent, why not replace all of the teeth with implants?
Dental implants are an excellent choice for replacing one or two missing teeth. But for patients with an entire arch of missing teeth, installing an implant to replace each natural tooth can be prohibitively expensive. The surgery is also far more extensive, and there may be a higher risk of complications. This is why specialists often recommend implant-retained dentures instead.
How many implants will I need?
To replace a full arch with a retained denture, patients will need at least two implants, but possibly three or four. Your Warrnambool dentist will design your treatment plan based on medical factors that are unique to you.