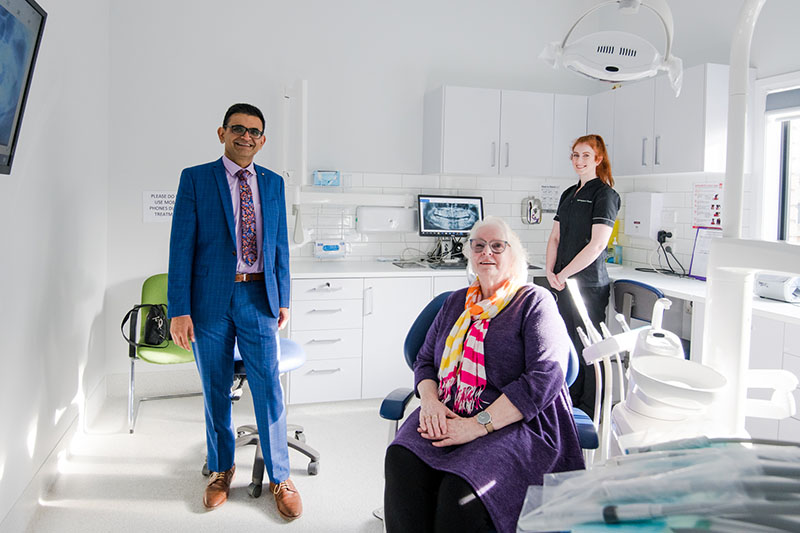 Your Title Goes Here
Your content goes here. Edit or remove this text inline or in the module Content settings. You can also style every aspect of this content in the module Design settings and even apply custom CSS to this text in the module Advanced settings.
First Visit
Your first visit to the Warrnambool Dental office will normally include an examination and evaluation of treatment options.
In many cases, your treatment can begin or be performed on the same day.
However, if you have a complex medical history, or your treatment plan requires further evaluation, a follow-up appointment will be scheduled to begin or perform treatment.
In order to assist us in providing a comprehensive evaluation during your first visit, please bring the following:
X-rays taken at another dentist — if related to your treatment
A list of your current medications
In the case that you have dental insurance, please bring your completed forms to help us better process any claims that you may have
IMPORTANT REMINDER:
Please consider that any patient under the age of 18 must be accompanied by a parent or guardian.
Please notify the Warrnambool Dental clinic staff of any medical conditions that you have which may be of concern before treatment, such as diabetes, artificial implants (heart valves, joints, etc.), high blood pressure, rheumatic fever, or other health-related conditions.
Please let us know if you are taking any medications at all (including aspirin, supplements, etc.)
Dental X-Rays
You can have any x-rays taken at another dentist or physician forwarded to our office by making a request with the clinic where they were taken.
If they are expected to arrive after your first visit, please pick them up and bring them with you during your appointment. If you require additional x-rays to be taken, you can take them at our facility.
As experienced dentists, we know that the need to visit a dental clinic can make some people a little nervous.
We're here to provide a worry-free experience with professional service and a state-of-the-art dental facility.
Take your first step to healthy teeth and gums with the leading dentist in Warrnambool and servicing all surrounding suburbs including Hamilton, Camperdown, Portland, Port Fairy, Terang, Timboon and Cobden.
Scheduling
If you would like to set an appointment with the Warrnambool Dental clinic, just give us a call and we will schedule you as soon as possible.
If you are in need of an emergency dentist, we will do everything we can to see you the same day.
At Warrnambool Dental, we keep our schedule optimised to reduce your waiting time as much as possible. As we provide a complete range of dentistry services, there may be circumstances that affect procedure and service schedules, such as emergency cases and other delays. Thank you for your patience and understanding.
Dental emergencies can be very painful and require immediate medical attention for pain relief and optimal health. Our accredited DDS dental office is open for regular hours and available for emergency dental services if required.
If you located in Bulleen, Warrnambool, or nearby suburbs, contact Warrnambool Dental for all of your dental services today.
To schedule an appointment or request emergency dental services near Warrnambool, please call us at (03) 5562 4433.
Insurance
To offer every opportunity of visiting the best dental practice in South West Victoria, Warrnambool Dental provides flexible financial options and a maximum reimbursement of expenses through your current insurance program.
You may contact our offices with any questions or to discuss your insurance program and the type of coverage that it offers. Please bring your insurance information with you during your first visit to ensure that your program is accurately assessed and maximum reimbursement can be provided for our services.
Please call (03) 5562 4433 or contact us for more information about financial and insurance options available to you at Warrnambool Dental
Financial Policy
Warrnambool Dental offers various billing and payment options for your convenience.
If you would like to make payment arrangements in advance of your visit or have any questions, please contact our offices at (03) 5562 4433. If you have not made payment arrangements in advance of your visit, payment will be due at the time of service.
Please consider that all fees for services rendered at our offices are your responsibility notwithstanding your insurance coverage, and that you should be fully clear of all payment conditions before receiving dentistry services at our offices.
Warrnambool Dental will provide you with a monthly statement in the case of payment arrangements and insurance coverage.
You can expect your insurance company to respond in 4-6 weeks after patient billing. In any case that your monthly statement does not coincide with your insurance payment for that period, please call our offices at (03) 5562 4433.
Please consider that if there is remaining balance following a payment made by your insurance company it will be your responsibility to cover the charge. In such cases, timely payment of your remaining balance will be appreciated.
If you would like to create a monthly payment plan, please contact our offices at (03) 5562 4433 before your procedure.
Cancellation Policy
Your appointment is a valuable time slot that involves preparation for your visit or surgery, with complete sterilisation of equipment and materials, informational review and personnel readiness required during every patient procedure.
Please let us know in advance if you are unable to make it to your appointment so that we can utilise your time slot by offering it to another patient who may be in need of urgent treatment.
If you miss your appointment without notice or must cancel your appointment with less than 24 hours before your visit, a fee will be incurred. .
Post Operative Instructions
After receiving a tooth extraction the socket of the missing tooth will produce a blood clot that is vital to the healing process. Do your best to avoid irritating the operation site with your tongue, fingers or with too much rinsing.
In cases when the tooth socket begins to bleed after you have left the dental clinic, cover it with a clean tissue or clean cloth and bite down to apply pressure.
Bleeding should usually stop within just a few minutes. When it does, do your best to not disturb the site and give it proper time to heal. If bleeding is regular and persistent, you should call our offices and speak to your dentist.
After an operation, it will take an hour or more for the local anaesthetic to completely wear off. Your mouth will be a little numb so you should be careful not to burn it with a hot drink or bite your cheek.
To ensure a quick and healthy healing process, please do not smoke or drink alcohol for at least 24 hours after you operation.
If you are in pain once the local anaesthetic has worn off you may take an over-the-counter pain medication while following the manufacturer's instructions. DO NOT take Aspirin, which may cause additional bleeding at the tooth extraction site.
Sedation/General Anaesthetic
Dental Sedation
You may choose to be sedated during your operation for a more pleasant and worry-free experience at the dental clinic.
Sedation will cause you to become relaxed while your dentist performs the procedure, and is ideal for patients who are nervous about treatment or have other conditions that may warrant sedation such as:
Phobia of dental treatment or pain
Complex dental issues
Sensitive teeth
Dentistry-related trauma
One of the biggest concerns among people who avoid dentists is the phobia associated with dental treatment.
Having a strong phobia of dental treatment can result in the negligence of oral health and cause further damage to teeth and gums along with medical complications.
Sedation is the perfect choice for people with dental treatment phobia. It's designed to make patients relaxed and more cooperative with their dentist whom can then perform any necessary treatment on the patient.
How Does It Work?
Sedative medications are used to relax the patient while the dentist performs the necessary treatment. These medications vary between tranquilizers and anxiolytics, and can be administered in different ways to ensure the maximum comfort of the patient. While sedatives do not put you to sleep, they do make you feel sleepy and at ease.
How Will I Be Sedated?
Sedatives can be delivered in several different ways depending on the dental treatment procedure and the preferences of the patient.
Oral Conscious Sedation
You will be given oral sedatives to be taken before bed and in the morning on the day of your procedure. These will cause you to feel drowsy and relaxed by the time of your treatment, during which you should still be able to follow any instructions given to you by your dentist.
The sedatives will have an effect similar to that of amnesia, so you may not remember everything from your procedure. During your treatment, the dentist will also administer local anaesthesia for pain prevention and relief.
Warning:
Please be advised that oral sedatives cause extreme drowsiness. For your safety, do not drive to or from your dental surgery. You should make transportation arrangements on the day of your surgery that will allow you to get safely from and to your home without the need to walk or drive.
Inhalation Sedation
During inhalation sedation you will receive nitrous oxide gas (also known as laughing gas) to make you relaxed during your surgery.
In many cases, dentists prefer to use nitrous oxide because it takes effect very quickly (about 5 minutes after inhalation) and allows the patient to recover from its effects in a minimum amount of time.
Inhalation sedation also allows the dentist to sedate the patient for precisely the amount of time required for the procedure, or as long as sedation is needed.
It can also be given in gradual doses to achieve the desired sedative effect. Nitrous oxide gas will make you feel relaxed, and it is perfectly normal to feel happy, fall asleep, and remember very little of your treatment once the effects have passed.
Intravenous Sedation
Intravenous sedation, or IV sedation, are drugs given by injection which make you feel like you are sleeping.
You will still be conscious enough to follow the dentist's instructions during the procedure, but afterwards your memory of the treatment will probably be very foggy.
IV sedation is performed by a trained and experienced professional. Common IV sedative drugs include benzodiazepine, propofol, and other anti-anxiety sedatives.
IV sedation is not recommended for patients if:
You have a phobia of needles
You have lung or kidney problems
You have allergies to sedatives
You are pregnant
You have glaucoma
You are elderly or in poor health
Anaesthetics are drugs used to prevent the sensation of pain during surgery. There are two classes of anaesthetics.
Local Anaesthetic
Local anaesthetics target a specific area and create a numbing effect that will prevent pain during the surgery.
An anaesthetic spray or gel is first used to numb the area, and then a local anaesthetic injection is delivered to the site. Patients will remain fully conscious and aware during the procedure but will not feel any sensation where the anaesthetic is applied.
General Anaesthetic
In cases of complex surgery or if the patient is not eligible for sedation dentistry, general anaesthetic may be recommended.
General anaesthesia causes the patient to become completely unconscious during surgery and has side effects that last for several hours after treatment.
Payment Options
Warrnambool Dental provides several payment options for your convenience:
Cash Payment
Credit Card (Visa, Mastercard or Discover)
HICAPS
EFTPOS
Medical Child Dental Benefit Scheme
Mediplan Credit: We offer convenient payment plans through Mediplan for payments up to approved credit limits. You may also create a payment plan to pay for gaps, excesses or co-pay with your Private Health Insurance program. Please call our office for more information.
Noble Dentist Partner: If you are a Noble Dentist member, you will be eligible for reduced visit and procedure fees. Please call our office for more information.