Sensitive
Teeth Treatment
TREATMENT OPTIONS FOR TOOTH SENSITIVITY
As many as one out of every three adults have sensitive teeth.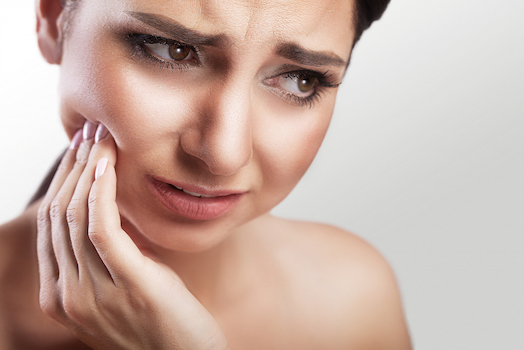 Tooth sensitivity, or dentin hypersensitivity, is pain or discomfort of the teeth when triggered by stimuli such as heat, cold, sugar, acid, or other external causes.
Sensitive teeth can affect the entire tooth, from the tooth itself to any part of its root in the case that they are exposed as a result of gum disease and recession.
Teeth tend to become sensitive when their protective enamel has eroded to the point of exposed dentine (bony tissue inside the tooth) or if the tooth has suffered damage such as a crack.
Get your sensitive teeth treatment Warrnambool today by professional dentists at Warnambool Dental.
Symptoms of Sensitive Teeth
You may have sensitive teeth if your teeth hurt or tingle when you:
Eat or drink cold or hot foods or beverages
Breathe cold or warm/hot air
Eat or drink acidic foods or beverages
Eat or drink sweet or sugary foods or beverages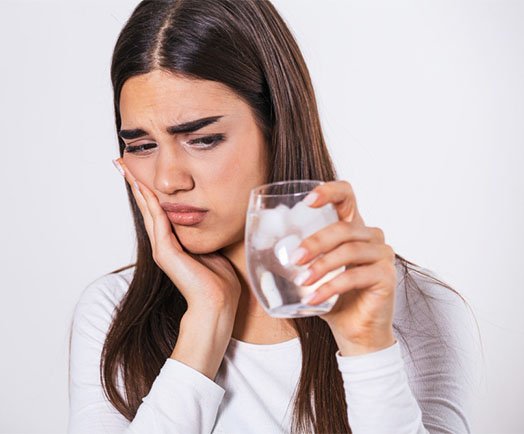 Causes of Sensitive Teeth
Enamel eroded by hard toothbrush bristles or aggressive brushing
Dental erosion caused by too much acid in the diet (acidic foods, snacks, beverages, etc.)
Damaged or broken teeth
Worn-out fillings exposing sensitive areas
Exposed roots as a result of receding gums
Grinding of teeth causing erosion of enamel
Temporary sensitivity after dental treatment
Treatment for Sensitive Teeth
If you think you may have sensitive teeth; as a result, these causes it may be time to have a talk with a Warrnambool dentist.
Make sure to let them know as much as you can about your condition such as when it began, what type of triggers you have, and if anything provides relief.
Your dentist will conduct an examination of your mouth to determine what is causing your teeth to be sensitive and advise you of any treatment that you may need.
Depending on the state of your teeth and gums, this could involve filling a cavity, replacing a filling, getting a dental crown, or receiving a gum graft in the case of gum loss.
Tooth Desensitisation Treatment and Products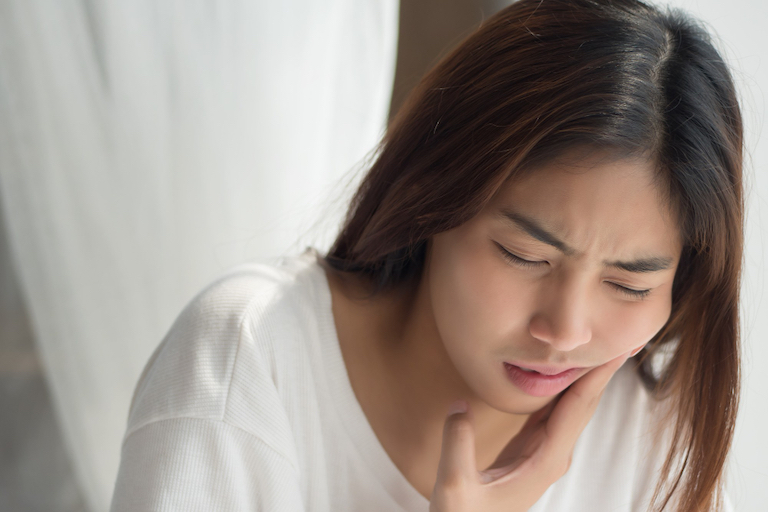 In some cases, the reason behind your sensitive teeth is not visible and does not pose any threat to the health of your teeth.
This, of course, does not change the fact that you feel discomfort or pain as a result of sensitive teeth.
Your dentist can provide fluoride gel treatment to reinforce your enamel and relieve sensitivity and may recommend a desensitising toothpaste that helps block nerve synapses in the teeth to reduce or prevent pain.
You should always see your dentist before using desensitising products for teeth sensitivity or go for any sensitive teeth treatment Warrnambool.
There may be an underlying issue which requires urgent treatment before it causes further damage to your teeth.
By visiting Warrnambool Dental, you will always be advised of the best course of action for optimal dental health.
Sensitive Teeth Treatment in Warrnambool
Don't let sensitive teeth stop you from doing what you love – eating! If you have sensitive teeth, visit us here at Warrnambool Dental to determine the cause of the problem.
We offer several treatment options for sensitive teeth to keep your smile pain- and worry-free.
Sensitive Teeth Treatment in Warrnambool
Call us on (03) 5562 4433 or visit us at 454A Raglan Parade in Warrnambool.
Dental FAQ's
Listed below are the most commonly asked questions we receive from our patients.
Your Title Goes Here
Your content goes here. Edit or remove this text inline or in the module Content settings. You can also style every aspect of this content in the module Design settings and even apply custom CSS to this text in the module Advanced settings.
What is tooth sensitivity?
Tooth sensitivity, often described as a "tooth twinge", "toothache", or "sore teeth", most frequently occurs when exposed to hot or cold temperatures.
You may also feel discomfort when consuming sweet or sour food and beverages or when you brush your teeth and rinse with cold water.
Tooth sensitivity may be a sign of a hidden dental problem. Please consult your Warrnambool dentist.
What causes tooth sensitivity?
Under the teeth enamel and inside the dentin are nerves. When enamel erosion occurs and the dentin is exposed, these nerves cause pain when exposed to heat, cold and pressure.
In many instances, finding out the cause of sensitivity starts with determining the cause of dentin being exposed, which might be the result of a cavity or damaged tooth.
How are sensitive teeth treated?
The treatment for sensitivity depends on the cause.
If the problem is gum disease or gum recession, your Warrnambool dentist might recommend an antibacterial toothpaste and mouthwash and a scale and clean and root planing to address the issue.
If it is due to a damaged tooth, a crown can be placed over the tooth. If there is a tooth infection, then a root canal treatment might be necessary.