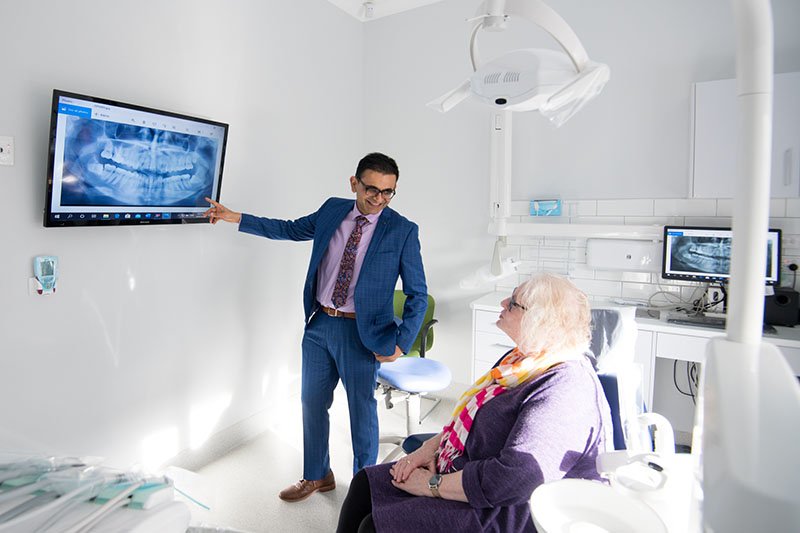 Below are some of the most frequently asked questions patients have about dentistry and oral health issues. If you have any other questions, or would like to schedule an appointment, we would love to hear from you.
What is a root canal?
When the soft tissue inside of your tooth (dental pulp) becomes infected, inflamed, or dies, it can cause severe tooth pain.
The treatment used to remove the pulp and save the tooth is called a root canal — or endodontic treatment.
With this procedure, the pulp is removed from the root canal (the hollow inside of your tooth), and the canal is sterilised, shaped, filled, and sealed to keep the tooth intact and prevent infection.
Depending on the tooth, infection, or other factors, root canal treatment may require more than one appointment to complete.
You may be recommended a crown or tooth restoration for the protection of your tooth after treatment.
Why do some dentists charge different prices for the same treatment?
The reason that some dental service providers charge different prices is because not all dental service providers are the same in terms of the product, quality, and care that they provide.
There are many factors involved with the operations of a dental service, such as professionalism, experience, technology, materials, technical skill, laboratory assets and other resources.
As someone looking for dental services, you may find it difficult to compare prices between services and determine the quality of the service that you have, or will receive.
However, there are some things you can look for when choosing a dental clinic that may help you decide on a better service.
A professional dental practice will always ask questions about your medical and dental history while taking the necessary time to listen and take note of the information you provide.
Because much of the treatment you receive will be personalised for your needs, it is important that they make a thorough examination of your entire mouth and create a plan for optimised treatment and your dental health.
When receiving dental services, you should always feel like your dentist is there to help you and that your dental health is their priority. Ultimately, you will want to find a dentist that offers a fair price and quality services.
Receiving bargain prices on dental services may not always be in your best interest, as they may not endure time and the elements as quality dental services always should.
What effects does a tongue piercing have on my mouth?
By piercing your tongue, you are effectively injuring a multi-functional muscle and a major nerve center of your body. The tongue serves many roles and should be kept in optimal health to prevent oral complications and other health issues.
Tongue piercing comes with the risk of:
Gum disease

 

— the resulting hole in your tongue as well as the foreign object become an ideal place for the growth of bacteria. This bacteria can spread throughout the mouth as well as down the throat causing gum disease and other complications
Nerve damage
Bleeding
Broken, chipped or cracked teeth
Halitosis (bad breath)
Damage to soft tissue at the roof, floor or cheeks of your mouth causing pain/infection
Further damage to the tongue by tearing
Tongue infection — a dangerous condition that can result in brain abscess
What is the best way to clean my splint?
With a tooth brush and cold water. You may also use tooth paste or white vinegar for freshening.
What should I do if my splint is loose or doesn't fit anymore?
You may bring your
splint
during your next appointment for refitting or make an 
appointment
 to refit your splint.
What is the cause of periodontal disease?
Periodontal disease is caused by bacterial infection of the structures around the teeth. Bacteria tends to grow around the gum line and in the space between the tooth and gum (the 'pocket'), where it can cause infections of the surrounding structure.
Risk factors of periodontal disease include smoking, diabetes, medications, stress, pregnancy, and other conditions.
What is the nearest tram stop to your clinic?
Tram 51, Corner of Keilor Road and Bradshaw Street.
How to whiten teeth?
In-Chair Teeth Whitening is performed at a dental clinic and consists of:
30 minutes – 1 hour procedure time
New patients will require a 15-minute consultation to assess if teeth cleaning is necessary (whitening alone may not remove all stains)
Patients will receive a supplementary whiting kit for in-home treatment
How soon should I whiten at home after receiving in-chair whitening? You may perform whitening treatment at home after a few days.
Take-Home Teeth Whitening is performed at home with a teeth whitening kit and consists of:
About 10 minutes procedure time
How long should I leave the solution on my teeth for? You should not leave the solution on your teeth for longer than one hour.
How long should I perform whitening treatment on my teeth? Most people whiten their teeth for between 2-6 weeks before reaching the desired brightness shade. You should stop whitening your teeth once you have reached the desired brightness shade.
What is the best way to clean my retainers? You may rinse them with cold water (not hot) or soak them in vinegar.
I have tooth sensitivity when I use whitening gel. Is there any way to prevent it?
For teeth sensitivity, we recommend using tooth mousse to strengthen your teeth and make them less sensitive.
What is tooth mousse?
Tooth mousse is a tooth cream that contains the same minerals that teeth are made from. It is designed to give your teeth added protection and make them less sensitive. Tooth mousse is commonly used by patients that whiten their teeth or by those that want to strengthen their teeth.
What is the best way to clean my mouthguard?
You can clean your mouthguard with a toothbrush and toothpaste or soak it in water and vinegar for additional cleaning.
What is the best way to clean my retainers?
You can clean your retainers by rinsing them under cold water (not hot). Soak your retainers in half white vinegar and half water for several hours to ensure that they are fully clean.
How long do I have to wear retainers?
6 months full-time for Upper Retainer
12 months during night time only for Lower Retainer
After 6 months, the Upper Retainer should be worn at night time only for an additional 6 months along with the Lower Retainer.
After 12 months, retainers should be worn 2 to 3 times a week in order to keep the teeth straight