Are Dental Procedures Safe While Pregnant or Breastfeeding?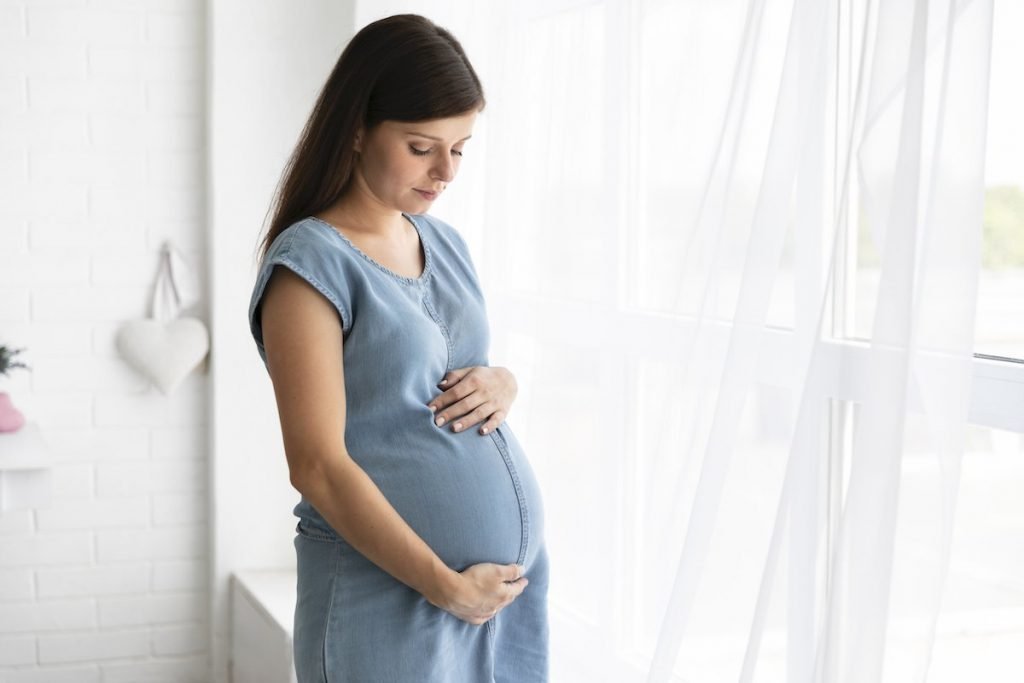 Pregnancy can be a very hectic time. You may have added visits to the doctor, tours of daycare centres, and childbirth class.
Furthermore, there are so many things to shop for – clothes, cribs, and toys. It is easy to fill your calendar with events that drive dental visits right off of your calendar.
Besides, with all this important work to do, surely, it's ok to skip a dental visit or two. Pregnancy only lasts for nine months, and not much can happen, right?
The answer is: "Wrong, and it's not safe to miss dental appointments. But many Australian women don't get this message.
A 2015 study revealed that nearly half of pregnant women skipped a dental visit.
This is a poor way to save time, as poor dental care and absence of proper dental procedures while pregnant and breastfeeding can cause health problems in mothers and children that will cost plenty of time and money, on down the line.
Let's take a look at some dental issues raised by pregnancy and breastfeeding.
Issues Related to Pregnancy
Pregnancy can bring some unique challenges:
Morning sickness. Pregnancy can cause gastric reflux (heartburn), better known as morning sickness.
When you vomit, stomach acids can coat your teeth, which can cause enamel erosion.
There are two strategies to fight this:
No matter how much you want to, don't brush for minutes after vomiting or reflux. Brushing only strengthens the attack.
Do rinse your mouth with water (and baking soda if available) after vomiting.  After rinsing, smear a small dab of fluoride toothpaste over your teeth to refresh your mouth and protects your tooth enamel.
Pregnancy gingivitis. Hormones cause your gums to swell while pregnant, which can lead to pregnancy gingivitis, a disease of the gums.
Signs of gingivitis include:
swollen gums
red gums (instead of pink)
bleeding gums
If you suspect you have gingivitis, contact us at Warrnambool Dental.
Cravings for certain foods. The increased caloric requirements of pregnancy can lead to cravings and additional snacking.
To protect your teeth:
Drink tap water
Avoid acidic or sugary drinks (such as orange juice) and snacks, which increase the risk of tooth decay and erosion
Eat snack foods that are low in salt, fat, and sugar, and high in fibre
Rinse your mouth with tap water between meals.
Protect your Unborn Baby's Health
Your dental health protects your baby as it helps:
Fight gum disease that can cause low birth weight baby or premature birth.
Stop decay-causing bacteria from transferring from you to your child.
Here's how to keep your teeth and gums healthy:
Brush your teeth with fluoride toothpaste and floss daily.
Visit your Warrnambool dentist for a regular dental checkup every six months.
Eat healthy foods that give you and your baby important nutrients.
Pregnancy, particularly the first trimester, is a good time to get cleanings and dental work finished before the baby arrives.
Remember, for many women earlier is better because as pregnancy develops, the dental chair becomes less comfortable.
A visit to your Warrnambool Dental dentist can resolve any pregnancy-related dental problems you may have and help keep you and your baby healthy!
Dentistry and Breastfeeding
If you are breastfeeding, the main dental issue is the use of drugs that might reach the child. So, the first thing to do is make sure your dentist knows you are breastfeeding.
Here are some typical dental treatments and their relationship to breastfeeding.
Novocaine (and other anesthetic drugs) are generally safe.
X-rays are safe for breastfeeding mothers.
Some antibiotics are generally safe – again, this is why your dentist needs to know if you are breastfeeding.
Nitrous oxide (laughing gas) is also safe, as the gas is insoluble in the bloodstream
Most medicines for IV sedation and oral sedation are safe.
If you need medicine while breastfeeding, it is important to check with your dentist and physician ensure the drug is safe.
Dental Procedures while Pregnant or Breastfeeding
Attend to your oral hygiene while pregnant or breastfeeding. Cutting back on, or forgetting, "non-essential" activities like brushing and flossing can lead to more gum disease and cavities.
This is dangerous because bacteria in a mother's mouth is easily transferred to children through shared utensils, pacifiers, and other shared contacts.
Brush twice a day, and floss once a day!
Finally, be absolutely certain that your Warrnambool Dental dentist knows that you are pregnant or breastfeeding.
We adjust our recommendations and treatments to maximise your health during pregnancy and nursing, while also maximising them for your child.
Full-Care Dentistry in Warrnambool
Warrnambool Dental is a full-care dental office in Southwest Victoria. We offer the highest calibre dental treatment in Australia.
At Warrnambool Dental, we offer our patients professional and affordable service in a comfortable, family-friendly environment.
We welcome patients of any age and condition and give outstanding service based on your specific dental condition, expectations, and desires.
We offer extended hours on weekdays (until 7:30) and Saturday hours from 8:30 AM – 4:00 PM.
Warrnambool Dental serves local communities in Portland, Hamilton, Camperdown, Terang, Port Campbell, Colac, Timboon, Port Fairy, MacArthur and Casterton.
For more information on dental procedures while pregnant or breastfeeding, call us on (03) 5562 4433 or request your appointment online.
We are located 454A Raglan Parade, Warrnambool.