Can Dental Veneers Improve Your Smile?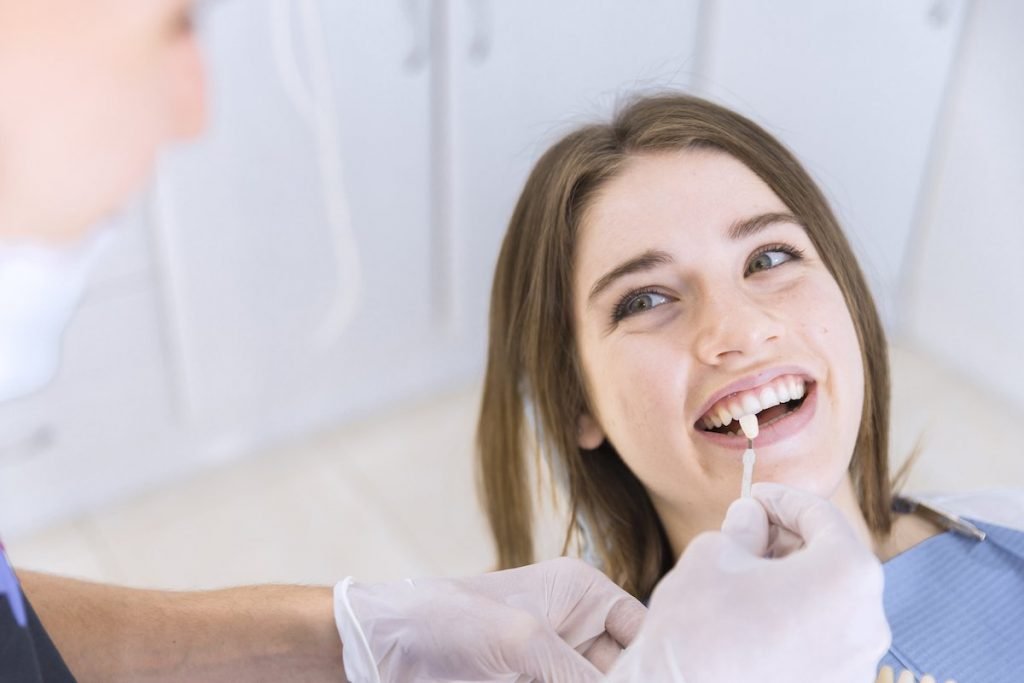 Not everyone is born with perfect teeth.
Nature can leave us with uneven, misaligned, malformed, and differently sized teeth. These conditions are damaging to our smile and how the world sees us.
Fortunately, Warrnambool Dental has a solution for dental patients with stained or chipped teeth — Dental Veneers!
Dental veneers are an effective, relatively quick, and attractive way to address the appearance of fine imperfections.
Read on to learn more about dental veneers and what they can do to improve your smile.
What are Dental Veneers?
Dental veneers are hollow, thin shells of porcelain or composite material that are bonded to the front of your teeth for two underlying reasons:
To protect the tooth that lies beneath, but more often,
To enhance the appearance of your teeth and smile.
Veneers come in two kinds, composite and porcelain veneers.
Composite veneers are generally more inexpensive than their porcelain counterparts, and they are usually built upon existing teeth, layer upon layer, as the patient sits in the dental chair.
Porcelain veneers, on the other hand, are generally fabricated in a dental laboratory and can come very close to the translucency and lustre of a natural, healthy tooth. Porcelain veneers are also quite durable and rugged.
What to know about Veneers
There are very reasons to consider veneers as a solution for some cosmetic dental issues.
If you have yellow, discoloured, cracked, chipped, slightly misaligned or strangely shaped teeth, veneers can improve your smile, confidence, and even performance.
They can also make your teeth appear brighter, and they are more stain-resistant than natural teeth.
Veneers are not reversible, so you must be confident they are the treatment you want.
Perhaps the greatest con of veneers is that they require reduction of the natural tooth they will cover. This can add up to 3-30% of the natural tooth surface.
Because a veneer sits over the front of the tooth (thus taking up space) and needs to stick quite firmly, the existing tooth surface must be removed to make the fit a good one.
This is just one of the reasons that veneers, like any dental treatment, should be discussed until the patient and dentist are happy with the treatment plan.
But veneers are not 'silver bullets'. And while they can protect your teeth from decay by covering up the tooth surface, they can also have the opposite effect.
There are several ways teeth covered by veneers can get cavities:
Poorly installed veneers can create a bad fit over the tooth, leaving it vulnerable to decay as the protective enamel has been removed.
Veneers require good oral hygiene as well as regular trips to the dentist for check-ups.
A patient may take medications that promote dry mouth, or they may be experiencing a suppressed immune system, leading to inflammation and infection issues in the mouth.
Patients with weakened or unhealthy teeth or too little enamel on the tooth surface are more prone to decay.
As you might expect, the best way to avoid decay in a veneer-covered tooth is a thorough personal oral health regimen, see your dentist regularly, and comply with all post-treatment suggestions provided by your dentist or dental hygienist.
Your dentist will give you some pointers on how to take care of both the natural tooth below the veneer and the veneer itself. Most of this advice will not be new to you.
Brush twice daily – at least.
Floss daily.
Use mouthwash twice a day to battle bacteria.
Visit your Warrnambool dentist twice a year for a thorough professional cleaning.
Limit acidic foods and drinks, like citrus fruits, soda, and coffee.
Limit snacking.
Moderate intake of sugary treats.
Don't smoke.
Full Care in Warrnambool
Warrnambool Dental offers the highest calibre dental treatment in Australia. Our patients receive affordable and professional service in a comfortable, family-friendly environment.
Warrnambool Dental welcomes patients of all kinds, including pregnant or nursing women.
We provide outstanding service based on your specific dental condition, desires and expectations. We are your number one choice for dental health treatment, dental restorations, cosmetic services, and preventative expertise.
Every visit to your Warrnambool dentist helps ensure long-lasting oral health and keeps you smiling for many years to come.
If you want to learn more about dental veneers in Warrnambool, call us on (03) 5562 4433 or request your appointment online.
We are located 454A Raglan Parade, Warrnambool.