Dental Care at Warrnambool Dental – What can you expect?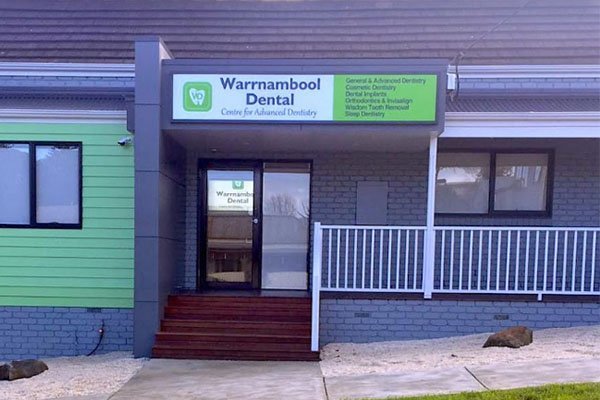 Warrnambool Dental is all about full-care dentistry that allows our patients to be comfortable.
We offer the highest calibre of dental care at Warrnambool Dental, in a comfortable and family-friendly environment, for a price that our patients can afford.
But we are aware that many potential patients don't enjoy visits to the dentist's office. The good news is that, at Warrnambool Dental, we are masters at creating a patient experience that is top-notch, from the moment you first call our office until you get home, satisfied with our treatment.
Before you visit
Warrnambool Dental is working on making your visit convenient long before you get to our offices.
Our website is there to give you a good idea of our services, location, and equipment, and our friendly staff are available by phone to answer any questions you might have.
We are conveniently located on Raglan Parade and to demonstrate our concern for our busy patients, Warrnambool Dental offers extended hours (Mon to Fri 7:30 AM to 7:30 PM/ Sat 8:30 AM to 4:00 PM). Our goal is to be here for you!
Our Team
The Warrnambool dental team includes principal dentist Dr Nishant Hurria and associate dentist Dr Elias Dagher. Both are highly skilled and experienced dentists. Our support staff, both hygienists and office staff, are friendly and efficient.
The first time you visit our office staff can help you with any necessary paperwork and our treatment staff can help work out the best course of treatment for your condition.
Consultation
Patient consultation is the first, critical step if you need any special treatment or have any particular dental concerns. We are dedicated to giving our patients the care they need and want, and our first step is always to listen to you!
Our services
To start off with, we are proud to mention that we have been recognised for our quality by Three Best Rated. Three Best Rated chose the top 3 cosmetic dentists in Warrnambool, based on a 50-Point Inspection includes customer satisfaction, reviews, ratings, reputation, history, complaints, trust, cost, and general excellence.
In fact, all our services are outstanding, and they include:
General Dentistry: All aspects of general dentistry to best suit your needs.
Cosmetic Dentistry: Our cosmetic dentistry not only deals with aesthetic issues but also offers restorative benefits.
Dental Implants: Often, the best fixed-solution to missing teeth, implants are natural-looking a feeling, and long-lasting as well.
Children's Dentistry: Our treatment for children can begin in pregnancy. We look after your little ones with love and care.
Orthodontics: We provide caring, personalised, and professional service for adults and children.
Invisalign®: These nearly undetectable aligners straighten your teeth without traditional braces, and you can remove them to eat, for sports activities, and on special occasions.
Wisdom Teeth Removal: We remove impacted wisdom teeth, quickly and painlessly!
Periodontal Gum Care: Gum disease is inflammation of the gums that can progress to affect the bone that surrounds and supports your teeth.
Teeth Whitening: This is the most popular cosmetic procedure, a safe, simple, and remarkably fast way to brighten your smile. The results can be quite quick and dramatic.
TMJ Disease Pain: A difficult disease to diagnose, TMJ Disease has many symptoms and causes. Fortunately, your Warrnambool dentist is an expert in identifying it, its underlying causes, and what we can do to treat it and its effects.
Snap-On Smile: An affordable, non-invasive, completely reversible, cosmetic, removable arch that can give you a beautiful smile with shots, drilling, or pain.
For Patients with Dental Anxiety
Finally, we are quite aware that some patients have anxiety or phobia related to dental treatment. For these patients, we offer sleep dentistry, which lets patients undergo dental treatment while they are unconscious.
Sleep dentistry uses anaesthesia to sedate patients and induces a very relaxed feeling, or an actual state of sleep, during a dental procedure.
This ensures that the patient feels no pain at all, which allows the dentist to perform the treatment quickly and effectively.
Post- Treatment Care
Our concern does not end when your treatment is done.
The friendly staff at Warrnambool Dental can help you navigate payment options, including:
Cash Payment
Credit Card (Visa, Mastercard or Discover)
EFTPOS
HICAPS
Medical Child Dental Benefit Scheme
Mediplan Credit: We have payment plans through Mediplan for payments up to approved limits.
Noble Dentist Partner: If you are a Noble Dentist member, you are eligible for reduced visit and procedure fees.
We will also give you advice on post-visit oral hygiene, as well as help you set up your next appointment with us.
A visit to Warrnambool Dental is a positive thing, and we strive to keep it that way!
Welcome to Warrnambool Dental
Warrnambool Dental is a full-care dental office serving the Southwest Victoria region. We offer the highest calibre dental treatment in Australia, providing our patients with affordable and professional service in a comfortable, family-friendly environment.
At Warrnambool Dental, we welcome patients of all ages and conditions and provide outstanding service based on your specific dental condition, expectations, and desires.
We offer extended hours on weekdays (until 7:30) and Saturday hours from 8:30 AM – 4:00 PM.
Warrnambool dentist also serves local communities in Portland, Hamilton, Camperdown, Terang, Port Campbell, Colac, Timboon, Port Fairy, MacArthur and Casterton.
For more available dental care at Warrnambool Dental, call us on (03) 5562 4433 or request your appointment online.
We are located 454A Raglan Parade, Warrnambool.