Father's Day Gift Ideas for Different Kinds of Dads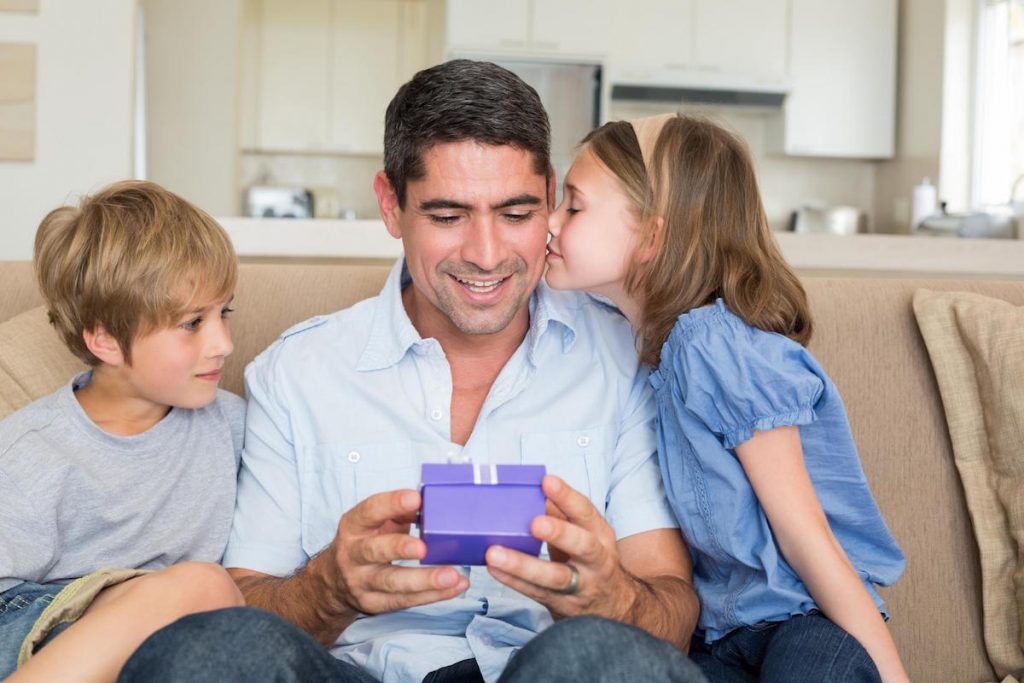 If this year is like last, September Sunday the 1st, there will be a crowd of people running around their local department store trying to find something to give as a gift.
Why? Because September 1st is Father's Day and too many of us wait until the last minute to shop for Dad.
Shopping for Dad can be difficult. Dads don't usually give us good clues as to what they want, and we are left to guess. So, what can you get the Dad that has done all he could for you?
At Warrnambool Dental, we suggest a gift of oral health, a gift that is very important for men. Why?
According to knowyourteeth.com, the average man will lose 5.4 teeth by age 72
A male smoker can expect to lose 12 teeth by age 72
Only one-fifth of men brush their teeth after every meal
A man is less likely to brush his teeth twice a day (49%) than a woman.
Father's Day Gift Ideas
So, this Father's Day, give your Dad the gift of health, by selecting a dental gift from the list of Father's Day gift ideas below:
The Athletic Dad
If your Dad plays sports, how about a custom mouthguard?
Warrnambool Dental specialises on sports dentistry, and that includes designing a custom-made mouthguard that can protect your Dad from fractures, concussions, lost teeth, and soft tissue injury.
Our custom-designed mouthguards are twice as effective at protecting your teeth.
The Dad who is unhappy with his toothbrush
A bamboo toothbrush is ideal for the Dad who wants to be 'green" while using a very effective toothbrush.
These soft-bristle brushes are great for teeth and gums, and they contain charcoal, which helps Dad fight bad breath.
Bamboo is also antimicrobial, so it protects your Dad's mouth from bathroom bacteria that might try to hitch a ride into his mouth on the toothbrush.
Buy your Dad a pack of 4 bamboo toothbrushes, and you have covered his toothbrush needs until next Father's Day!
The Dad who doesn't like flossing
One alternative to flossing is the interdental brush. These bristly tools slide between teeth to remove food, bacteria, and plaque.
Some studies suggest that they are even more effective than floss at removing plaque from between teeth. They are also ideal for Dads with limited manual dexterity due to arthritis or other issues.
The Dad who'd like to smile more
Has age or damage harmed your Dad's smile? Warrnambool Dental has answers in our cosmetic dentistry treatments.
Among them:
If Dad has missing or damaged teeth, he might have an interest in our restorative dentistry procedures to repair cracks, breaks, or replace missing teeth.
The Travelling Dad
Does your Dad camp, hunt, or travel for business? If so, give him an oral health travel/emergency kit. You can purchase a premade kit or make your own.
If you go DIY, we suggest including:
Gauze.
Saline solution.
Ice packs.
Dental wax.
Topical pain reliever.
OTC pain medication.
Save-a-Tooth system.
The phone number to Warrnambool Dental for advice and treatment.
The Techie Dad
There are a variety of Bluetooth toothbrushes with features like pressure sensors, facial recognition, timers, etc. Some have adjustable settings to create dental goals and even adjustable LED colours.
The Artsy Dad
Creative toothbrush and mouthwash Holders. Oral hygiene is predictable but need not be drab.
Make your Dad a DIY toothbrush or mouthwash holder featuring something meaningful to him – the logo of a favourite sports team, use a container that held his favourite drink, or include family pictures. You can find examples online.
Welcome to Warrnambool Dental
Warrnambool Dental is a full-care dental office in the Southwest Victoria region. We give the highest calibre dental treatments in Australia.
Our patients receive affordable and professional service in a comfortable, family-friendly environment.
Warrnambool Dental welcomes patients of all ages from the young to the old.
We provide outstanding service based on your specific dental condition, expectations, and desires.
We are your number one choice for preventative expertise, dental health treatment, dental restoration, and cosmetic services.
Every visit to Warrnambool Dental builds long-lasting oral health and keeps you smiling for many years to come.
We offer extended hours on weekdays (until 7:30) and Saturday hours from 8:30 AM – 4:00 PM.
For more Father's Day gift ideas, call us on (03) 5562 4433 or request your appointment online.
We are located at 454A Raglan Parade in Warrnambool.